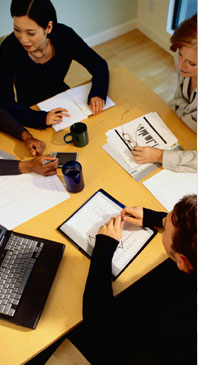 Ho Chi Minh City office

Adress:

366/62 Thoai Ngoc Hau Street, Phu Thanh Ward, Tan Phu District, Ho Chi Minh City, VietNam

Tel:

84-8-9731337

Fax:

84-8-9731337

Email:

info@btscvn.com

BTSC Enterprise Resource Planning Solution
Enterprise Resource Planning (ERP) systems assist companies with identifying and managing enterprise-wide resources and automating critical business processes in areas such as manufacturing, distribution, project management, human resources, payroll and finance. ERP has been growing so rapidly today, more and more companies implement this solution. No matter what is the size of your company, you need a solution to link your entire business process into one system.
By linking your entire business process into one system, your company will enjoy the benefit of faster data processing, more informed business decisions, reduced transaction cost and many more. For the Small Medium Enterprise (SME), this solution must be robust enough to handle their business process but in the same time provide ease of use with the lowest cost of investment possible.
BTSC Consulting since 2004 has offered ERP solutions to its clients. This solution not only will guarantee reliable, faster and low cost implementations but also will improve overall client's business process. Having implementing ERP solutions over 15 customers , BTSC Consulting really understands the business process, the needs and the problems faced by the SME. No matter what business are you in, we have the experience in implementing the solutions.

Microsoft Solomon - Enterprise Solution for the Changing Needs of Business
Inline with the vision to provide ERP solutions for the SME, BTSC Consulting chooses
Microsoft Business Solutions
– Solomon as its core ERP software solutions. Microsoft Business Solutions designs and delivers the Solomon suite of e-business software that adapts quickly to meet the changing needs of today's dynamic small to mid-sized organizations. No matter how fast or how extensively your company expands or evolves, Solomon will help you keep the pace with flexible business applications that are easy to tailor, for a fast time-to-solution to meet your needs today-and in the future.
BTSC Consulting offer an entire range of services including planning, implementations, training and support for the deployment of Solomon IV, to ensure the maximum return on investment. Collaboration between BTSC Consulting and Microsoft Business Solutions – Solomon has made all of the implementations success stories.
When Manufacturing is Your Business - JAAS Advance Manufacturing Software (JAMS)
In addition to Solomon, BTSC Consulting also offers JAAS Advance Manufacturing Software (JAMS). JAMS provides a comprehensive solution for your manufacturing requirements. Bill of Material/Routing, Production Management, Material Requirements Planning and Capacity Requirements Planning modules give you a powerful suite of applications to address the mid-sized manufacturing marketplace. JAMS, developed with Solomon VB Tools, integrates seamlessly with the Solomon Financial, Distribution and Project Series.
Being the resller for JAMS in Asia, BTSC Consulting provides sales & marketing, training, implementation and support assistance to its partners and customers throughout the region.
Get a glimpse into the future of business applications by checking out the new blog from Satya Nadella, Corporate Vice President of the Microsoft Business Solutions Product Group, and preview the roadmap of innovation and upcoming research and development plans for Microsoft business management solutions.