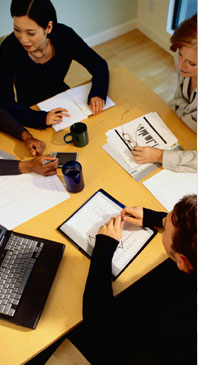 Ho Chi Minh City office

Adress:

366/62 Thoai Ngoc Hau Street, Phu Thanh Ward, Tan Phu District, Ho Chi Minh City, VietNam

Tel:

84-8-9731337

Fax:

84-8-9731337

Email:

info@btscvn.com

B.T.S.C Supply Chain Management Solution
Our Supply Chain Management solutions is aiming at lowering our clients total supply chain management cost, increasing customer service levels and lowering inventory at the same time.

What can you get from the efficient SCM?
A lot of researches have been done to get to know the benefit of implementing efficient SCM. One research by PRTM USA has shown the following benefits: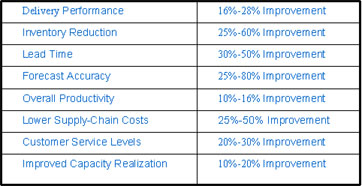 *Source: PRTM Integrated Supply Chain Benchmarking Study, 1997
With its Supply Chain Management teams, B.T.S.C Consulting offers demand management solutions, starting with the forecast management followed by requirement planning that's driven by the demand forecast. By knowing intelligently their demand in advance, companies will be able to better prepare their resources, eliminating "fire fighting'.
Successfully implemented, demand management will synchronize the company's customer demand and its resources, resulting in lower inventory and higher customer service level.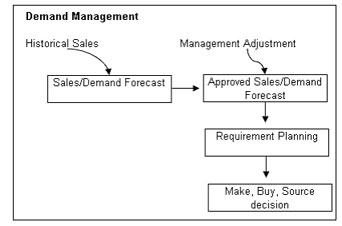 To be better solves its client's problems, B.T.S.C has chosen Demand Solutions software suites as the SCM software tools. Demand Solutions is a complete software for solving any demand management problems. Collaborations between Demand Solutions as one of the best of breed SCM software and B.T.S.C Consulting will significantly enhance your SCM activities. B.T.S.C Consulting offer an entire range of services including planning, implementations, training and support for the deployment of Demand Solutions, to ensure the maximum return on investment.
Besides Demand Management, B.T.S.C Consulting is also offering the other SCM solutions, such as:

- Sales and Operation Planning (S&OP).
- Collaborative Planning Forecasting and Replenishment (CPFR).
- Vendor Managed Inventory (VMI).